GoPro Hero Digital Video Camera
In a world where traditional digital camcorders are falling out of use, the GoPro Hero 7 system bucks the trend by perfectly blending form and function, redefining what to expect from a new generation of high definition, take anywhere, WiFi enabled, point-and-shoot action and sports orientated video cameras.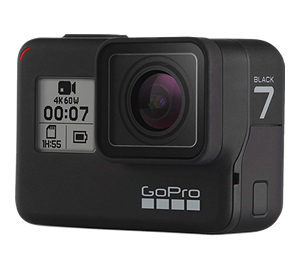 At the heart of the system is the GoPro Hero 7 Black Edition camera. Small enough to fit snugly into the palm of a hand, and wearable or mountable just about anywhere (including underwater), this sexy little beast produces smooth, vibrant and detailed video at astonishing frame rates. Capable of capturing 4K at up to 60fps. Watching smooth stabalised footage is a revelation, and makes it a small wonder this camera is the go-to choice for extreme sports enthusiasts everywhere.
The built-in WiFi allows remote control and real-time streaming to the internet of up to 50 of the devices via any iOS or Android phone or tablet (or wireless control through the included remote), is mind blowingly clever, and allows for almost endless possibilities In short, whether you are racing around a dirt track, half way up a mountain, or under the sea, the GoPro Hero 7 system will ensure your adventures are captured in stunning, near broadcast quality high definition. There is simply nothing else out there that come close, and here at London Speaker Hire we are pleased and excited to have them in stock.
Perfect for trying before you buy, hiring a GoPro Hero 7 product from us means you have the full support of our friendly and knowledgeable technical team . Also available to hire by post, if you like these cameras as much as we know you will, we're sure you'll be pleased as punch to know we will soon be offering them for sale.
Call us on 020 3333 4444 or email us now for more information or to hire.