New Range of DJ Booths and Stands to Hire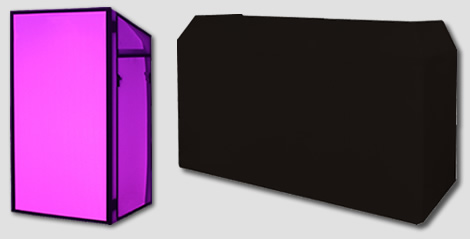 We are pleased to announce that we have upgraded all of our hire stock of DJ stands to a brand new design that makes them ultra-portable, whilst also being sturdy and of a premium build quality.
Each stand consists of a framework that is collapsible for transport whilst allowing you to "skin up" the outside with the specific material you require. For small spaces, we have the compact versions and for full-on DJ requirements, we stock a stand that will take an entire DJ system of components.
The white covers can be backlit and the star cloth versions can be used in white or multi-coloured LED light mode. We also stock lighting bars that attach for overhead hanging of lights.
For more info please visit this page or call us on 020 3333 4444.